Memories of life at the Grand Hotel by Neil McPhee
This is a wonderful site of Charing Cross and especially the Grand Hotel. I worked there as a page boy alongside my brother (second head porter) and school friend (porter) in the period just before it closed down. Latterly, the hotel was owned by Glasgow Corporation who rented it back to its previous owner, the United Co-operative Baking Society (UCBS), and it's passing marked the end of a way of life. Right up to the last day, we would have regulars come in for afternoon tea or a drink at the bar. Mr Howden was the hotel manager until the year before it closed in 1968 and for that final year it was managed by his deputy manager, Mr Konsten, who subsequently went on to manage the Dunblane Hydro Hotel. George Kennedy was the Head Porter and he could take a tip from a guest and pocket it faster than the eye could see.
Weddings there were always welcome and lavish affairs with the Ballroom Suite carpets being rolled up and French chalk being dusted over the floor for the dancing. Tour buses full of Americans, Canadians, and even Russians would pull up and all their luggage would be unloaded. The lift was reserved for guests so we had to carry all the luggage up to each room via the stairs. If the tour was late, we had to stay on duty until it arrived, so sometimes we would be on from 7am until 2am the following day. Overtime was not paid.
We had a night porter whom we called "Flash" since he was so slow and doddery at his job. One of these jobs involved going round all the rooms where the guests left their shoes outside to be cleaned and polished as part of the service. Flash decided one night that it would be much more beneficial if he could bring all the shoes so he went to the laundry room for a laundry basket, the big ones on wheels, and duly gathered them all up and brought them downstairs. He finished cleaning them by early morning but forgot to take a note of which shoes came from where. All the guests had to come down to reception in bare feet that morning to pick out their shoes. Flash was taken off that duty. A lot of the staff stayed in at the hotel and some of the waitresses had flats belonging to the hotel that were situated just a few yards up on Woodside Crescent.
Working as a page boy was the hardest job I ever had. It was my first job since leaving school and it opened my eyes to every side of life. Even after the hotel had closed and I was helping pack up and sell all the furniture etc., some past guests would still come in for one last nostalgic look round. Jack House did a full page spread on the Grand for the Evening Times as he was a regular there and full of praise for it. Buffalo Bill and Annie Oakley stayed at The Grand Hotel when his travelling show came to Glasgow in 1892.
Neil McPhee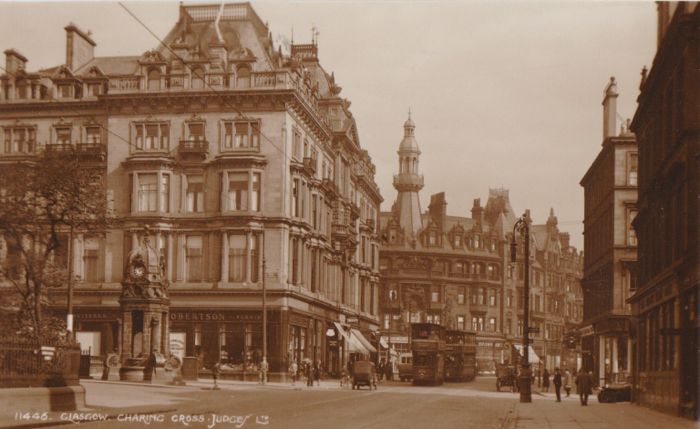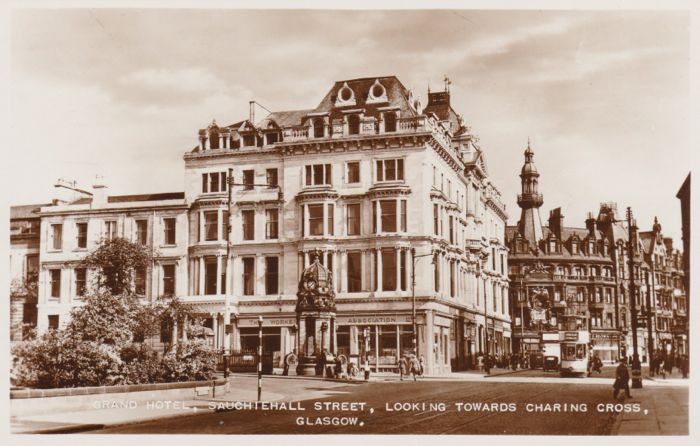 The Grand Hotel, Glasgow (1878-1968)